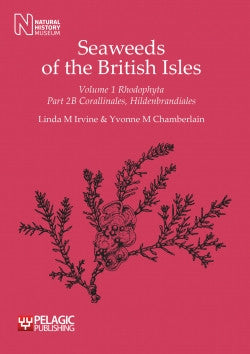 Seaweeds of the British Isles, Volume 1 Rhodophyta, Part 2B
Corallinales, Hildenbrandiales
Tags:
algae
identification
marine biology
marine habitat
phycology
rhododphyta
seashore
seaweed
taxonomy
Description
This volume is written by leading authorities in red algae. All subfamilies, genera and species are described, notes on ecology and distribution given, and each named species is illustrated by one or more half-tones or line drawings showing distinctive features. User-friendly keys are provided to enable identifi cation of genera and species. Special features of this volume are the concise but comprehensive and practical introduction and a complete re-evaluation of British Isles taxa in consultation with other international specialists. In addition, one new species and three new combinations are proposed.
This is a reprint edition of 0-11-310016-7 published in 1984.
Readership
Postgraduate, field centre, marine biologist, taxonomist
About the Author
Linda Irvine has over 40 years' experience at the Natural History Museum, London, specialising in algal taxonomy and nomenclature, and was a major contributor to three other books in the series.
Yvonne Chamberlain was a Research Fellow of the Natural Environment Research Council at the University of Portsmouth, and specialises in the taxonomy of crustose coralline red algae.
Bibliographic Information
276 pages

B/w illustrations

BISAC

SCI039000, SCI011000, NAT045050

BIC

PSTV, PSPM, RGBP