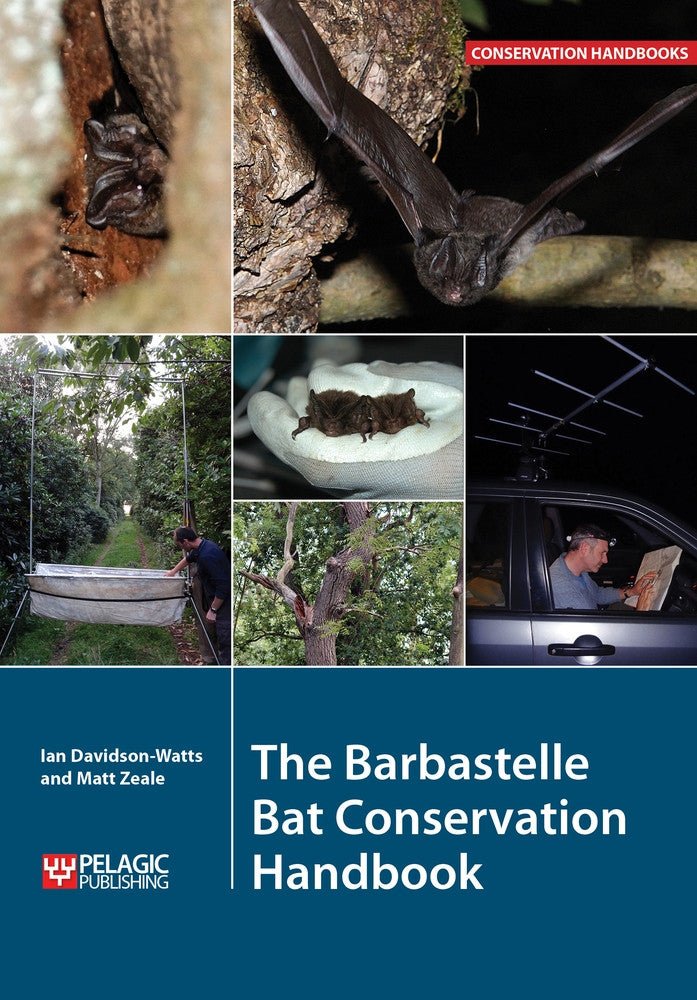 The Barbastelle Bat Conservation Handbook
Tags:
barbastelle
bats
chiroptera
conservation
ecology
management
survey
Description
The Barbastelle Bat Conservation Handbook is a long-awaited guide to barbastelle bat ecology, behaviour, conservation management and threats, the first publication of its kind to draw together all of the scientific research on the barbastelle bat into one comprehensive volume.
The most up-to-date methods for surveying the species are explained, accompanied by case studies and practical tips on how to conserve and manage the barbastelle bat's roosting and foraging habitats.
A much-needed resource to help conservation planners and others support barbastelle bat conservation, it is an essential manual for land managers and developers, conservation managers, ecologists and ecological consultants, bat workers and bat groups, nature conservation agencies, other government agencies and departments, conservation NGOs, ecologists, zoologists and other researchers.
Table of Contents
Contents include:
Foreword by Chris Packham.
Introduction – purpose and aims; what makes the barbastelle bat unique and why it needs our help; identification; current conservation status; distribution; protection.
Chapter 1: The ecology of barbastelle bats – roosting ecology; ranging behaviour: home ranges, commuting, the importance of landscape; dietary ecology: foraging behaviour, prey choice, predator-prey interactions; mating and hibernation.
Chapter 2: Survey techniques and considerations – challenges; acoustic surveys and sound analysis; catching and radio tracking; roost survey techniques (including hibernation roosts); diet analysis; interpreting data.
Chapter 3: Habitat management and enhancement for barbastelle bats –managing woodlands/forests; preservation and future provision of trees; managing wetlands; barbastelle bats and buildings.
Chapter 4: Development control and land management policies – landscape approach; managing the effects of development on roosts, foraging areas and flight lines; development control policies around breeding colonies.
Chapter 5: Conservation achievements and priorities – UK BAP; National Bat Monitoring Programme; threats: land-use change, habitat loss, climate change; research requirements.
Chapter 6: References, contacts and where to get help.
About the Author
Matt Zeale completed a PhD on barbastelle bats and has an academic research background on this species, amongst other bats. Ian Davidson-Watts has undertaken field work on the barbastelle bat since 1996 and previously worked as a conservation management advisor, working with land managers and developers. Together they have led the majority of the research on barbastelle bats over the last decade and have published extensively on the subject. 
Bibliographic Information
350 pages

BISAC

SCI070030, NAT019000, SCI020000

BIC

RNKH, PSVS, PSVW7