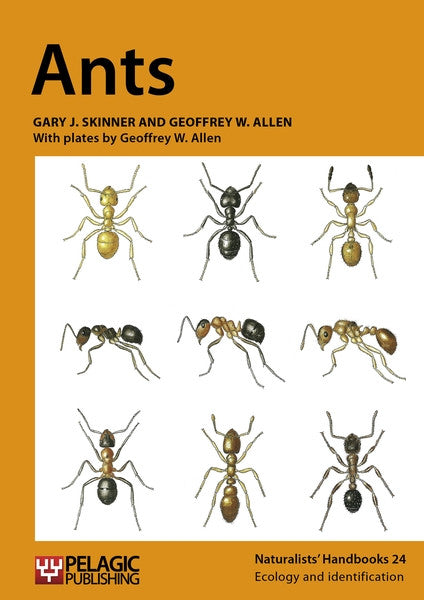 Ants
Easy-to-use identification key to ant genera
The biology and ecology of ants
Practical guidance on observing and studying ants
Tags:
ants
entomology
fieldwork
hymenoptera
insects
Description
Information on the biology of ants and various techniques for studying ants is included. An extensive chapter on ant identification forms the bulk of this handbook with keys to worker ants, queen ants and male ants accompanied by colour and b/w plates. A quick-check field key is also included for use in the field.
This is a digital reprint of the 1996 first edition (ISBN 0-85546-305-8).
Readership
Sixth-form, undergraduate, postgraduate, field centre, ecological consultant, wildlife trust, conservation volunteer
Table of Contents
Introduction
Biology of ants
Identification: Key I Worker ants; Key II Queen ants; Key II Male ants.
Quick-check filed key to common ants
Notes on the commoner British species
Techniques
Some useful addresses; References and further reading.
About the Author
Gary Skinner undertook research on ant ecology during the 1970s, after which he was a teacher of Biology for 34 years. He retired in 2008 to pursue a variety of paths including Educational Consultant/Photographer/Author/Entomological Surveyor. He is the author of A-level science guides, books on ants, Smart Learning textbooks and many academic papers and popular articles. He has been the Biology Editor of Catalyst Magazine (14-19) for the last 10 years.
Bibliographic Information
83 pages

B/w illustrations

4 colour plates

BISAC

NAT017000, SCI070020, SCI020000, NAT010000

BIC

PSVT7, PSVS, WNCN