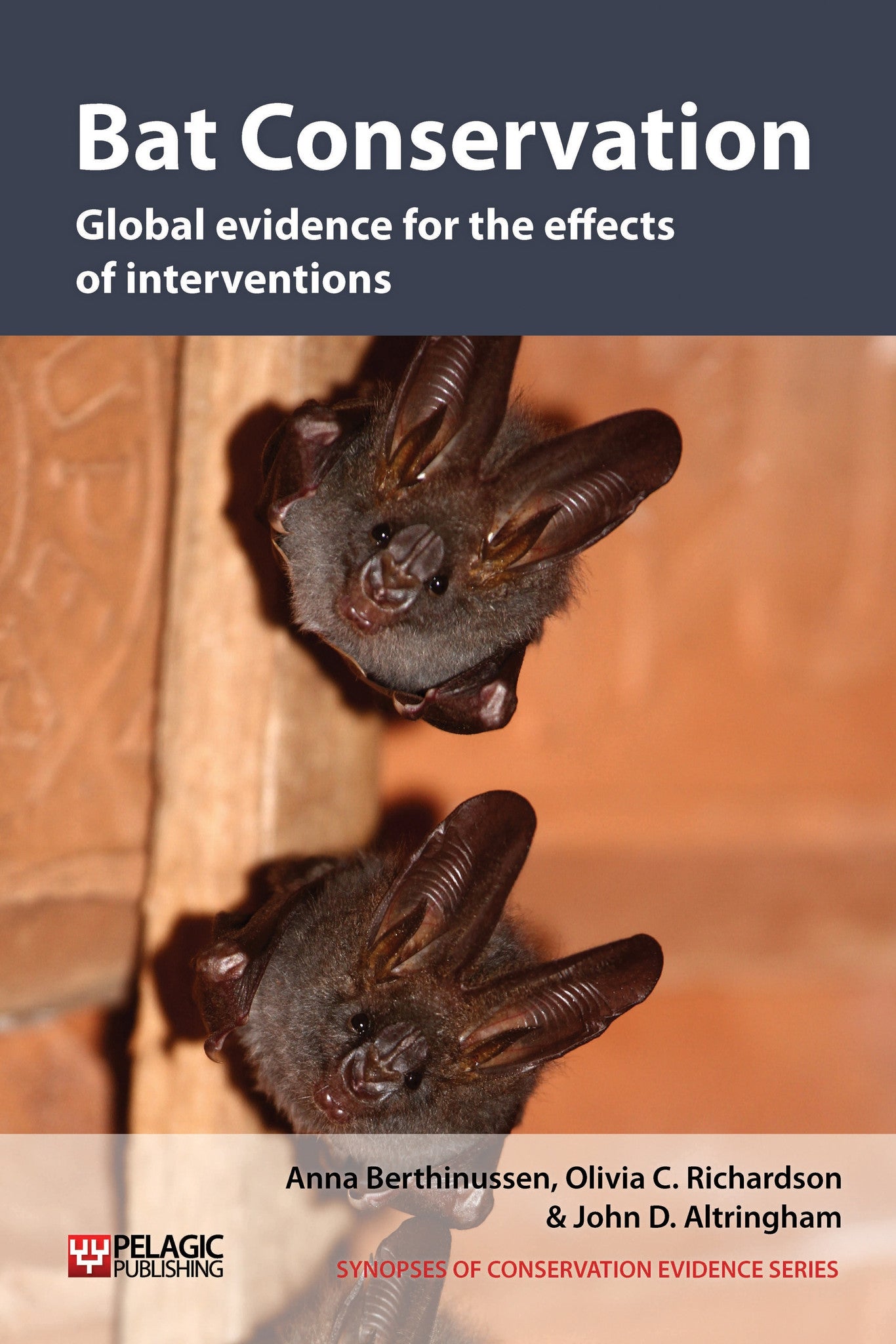 Bat Conservation
Global evidence for the effects of interventions
An evidence-based approach to biodiversity conservation
Summarises the available scientific evidence
International scope
This publication ... serves as a useful 'wake-up call' to bat surveyors and researchers, identifying which interventions are lacking scientific evidence. This is very helpful in directing future bat research.
—David Patterson, Scottish Bats
Tags:
bats
chiroptera
conservation
ecology
evidence-based
habitat
habitat loss
Description
This book brings together scientific evidence and experience relevant to the practical conservation of bats. The authors worked with an international group of bat experts and conservationists to develop a global list of interventions that could benefit bats.
For each intervention, the book summarises studies captured by the Conservation Evidence project, where that intervention has been tested and its effects on bats quantified. The result is a thorough guide to what is known, or not known, about the effectiveness of bat conservation actions throughout the world.
Bat Conservation is the fifth in a series of Synopses that will cover different species groups and habitats, gradually building into a comprehensive summary of evidence on the effects of conservation interventions for all biodiversity throughout the world.
By making evidence accessible in this way, we hope to enable a change in the practice of conservation, so it can become more evidence-based. We also aim to highlight where there are gaps in knowledge.
Evidence from all around the world is included. If there appears to be a bias towards evidence from northern European or North American temperate environments, this reflects a current bias in the published research that is available to us. Conservation interventions are grouped primarily according to the relevant direct threats, as defined in the International Union for the Conservation of Nature (IUCN)'s Unified Classification of Direct Threats (www.iucnredlist.org/technical-documents/classification-schemes).
Readership
Land manager, conservationist, farmer, campaigner, advisor or consultant, policymaker, researcher
Table of Contents
1 Threat: Residential and commercial development
2 Threat: Agriculture
3 Threat: Energy production – wind turbines
4 Threat: Energy production – mining
5 Threat: Transportation and service corridors
6 Threat: Biological resource use
7 Threat: Human disturbance – caving and tourism
8 Threat: Natural system modification – natural fire and fire suppression
9 Threat: Invasive species and disease
10 Threat: Pollution
11 Providing artificial roost structures for bats
12 Education and awareness raising
Index
Reviews
This is an excellent review with synopses of ecology practices and implementation for bat conservation which covers cases across continents. It is likely to be of interest to practitioners and students who would like to see evidence of plans and actions. —Alan Linsdell, Mammal News
It provides a stark insight into the lack of scientific research (or survey work that remains unpublished) about how humans affect bats. This publication also serves as a useful 'wake-up call' to bat surveyors and researchers, identifying which interventions are lacking scientific evidence. This is very helpful in directing future bat research. —David Patterson, Scottish Bats
The book is aimed at land managers and practical conservationists, with 10 chapters devoted to particular categories of threats to bats (agriculture, wind turbines, pollution, fire, etc.), within which specific dangers are addressed (including all the 'usual suspects' such as pesticides, artificial lighting and disturbance to hibernacula for example). For each threat, the various widely suggested mitigations are listed, then the literature has been scanned to find robust evidence for whether or not they were effective. There are no words wasted here in the very business-like text. This disciplined approach is welcome and perhaps long overdue, given the resources that have been poured into bat conservation over the past 30 years. —Pat Morris, Zoological Journal of the Linnean Society
About the Author
Anna Berthinussen is a post-doctorate researcher at the University of Leeds, currently working on a Defra-funded study of the interactions between bats and roads. She holds degrees in bat ecology and conservation (PhD) and Zoology (BSc), both from the University of Leeds. She has published several scientific papers and contributed to book chapters on bats, and has a keen interest in wildlife conservation.
Olivia Richardson is a conservation ecologist who has recently been working as a Research Assistant and an ecological consultant. She holds degrees in Biodiversity and Conservation (MSc) and Biology (BSc with Honours), both from the University of Leeds. She is a former British Ecological Society Education, Training and Careers committee member and Undergraduate Fellow alumni. Her
research interests include bat conservation, urban ecology, citizen science and applied ecology and its translation into policy and practice.
John Altringham is Professor of Animal Ecology & Conservation at the University of Leeds. He works primarily on the ecology and conservation of bats, but has broad interests in conservation. In the past he has studied animals as diverse as tunas and tarantulas. He is the author of numerous scientific papers and reports, and three books on bats, the most recent being Bats, from evolution to conservation, published by OUP in 2011. He is a scientific advisor to the National Trust and other conservation organisations.
Bibliographic Information
120 pages

BISAC

SCI070030, NAT011000, NAT019000, NAT045000, SCI020000

BIC

PSVW7, WNCF, RNKH, PSVS