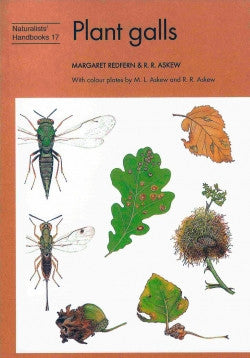 Plant galls
Tags:
ecology
entomology
fieldwork
galls
insects
invertebrates
microclimate
parasite
parasitoid
plants
Description
Most of us have noticed galls as bizarre and often colourful distortions of plant growth, and wondered what goes on inside them. The drama enacted within a single gall may involve many species of insects and mites. Their interrelationships are intricate and their identification has been challenging. The communities of insects and mites associated with galls of certain plants, when unravelled by specialists, have proved to be of great ecological interest.
This book will make galls accessible to a wider audience. It introduces the wonderfully complex communities associated with galls, and provides keys for identification of the gall former, and many other occupants, including predators and parasites. To make this task manageable the authors have concentrated on galls associated with selected plant species, and have presented a food web to illustrate the relationships among the animals associated with each type of gall. Much remains to be discovered about these and other galls and their inhabitants. For the first time, this book brings that exploration within the scope on interested naturalists and students.
Galls are often abundant and readily available systems for the study of ecology. Investigations undertaken at home or in schools and universities may help to advance our knowledge of these microcosms, and of the ecological interactions that they illustrate so compactly.
Readership
Sixth-form, undergraduate, postgraduate, field centre, ecological consultant, wildlife trust, conservation volunteer
Table of Contents
Introduction
The gall makers
Communities and interactions
Identification:
Key I Galls caused by non-arthropods
Galls caused by arthropods (insects and mites)
Key II Acer pseudoplatanus, sycamore
Key III Arctium species, burdocks
Key IV Betula species, birches
Key V Carduus species, plumeless thistles
Key VI Centaurea species, knapweeds
Key VII Cirsium species, plumed thistles
Key VIII Picea species, spruces
Key IX Populus species, poplars and aspen
Key X Quercus species, oaks
Key XI Rosa species, roses
Key XII Salis speices, willows and sallows
Key XIII Taxus baccata, yew
Key XIV Full grown larvae of parasitoids and predators of selected gall formers
Food webs based on selected gall formers
Some useful addresses
References and further reading
Bibliographic Information
99 pages

B/w illustrations

4 colour plates

BISAC

NAT017000, SCI020000

BIC

PSVT7, WNCN, PSVS