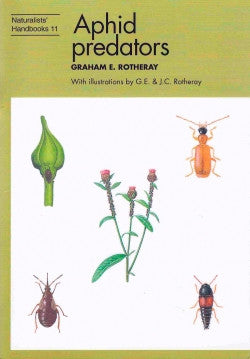 Aphid predators
Tags:
aphid
aphids
ecology
economic entomology
entomology
identification
key
predation
predator
Description
Aphids and their colonies are excellent arenas in which to observe predators in action. A range of insects come to eat or parasitise the aphids or to drink their honeydew.
Readership
Sixth-form, undergraduate, postgraduate, field centre, ecological consultant, wildlife trust, conservation volunteer
Table of Contents
Introduction;
Natural History
Investigating predation
Identification: Guide to aphid species: Key I Major groups of insects found at aphid colonies; Key II Hoverflies; Key III Ladybirds; Key IV Aphid midges; Key V Flower bugs; Key VI Lacewings; Key VII Ants; Guide to ground and rove beetles
Techniques
Useful addresses; References and further reading.
Bibliographic Information
77 pages

Figures, b/w illustrations

2 colour plates

BISAC

NAT017000, SCI020000

BIC

PSVT7, PSVS, WNCN