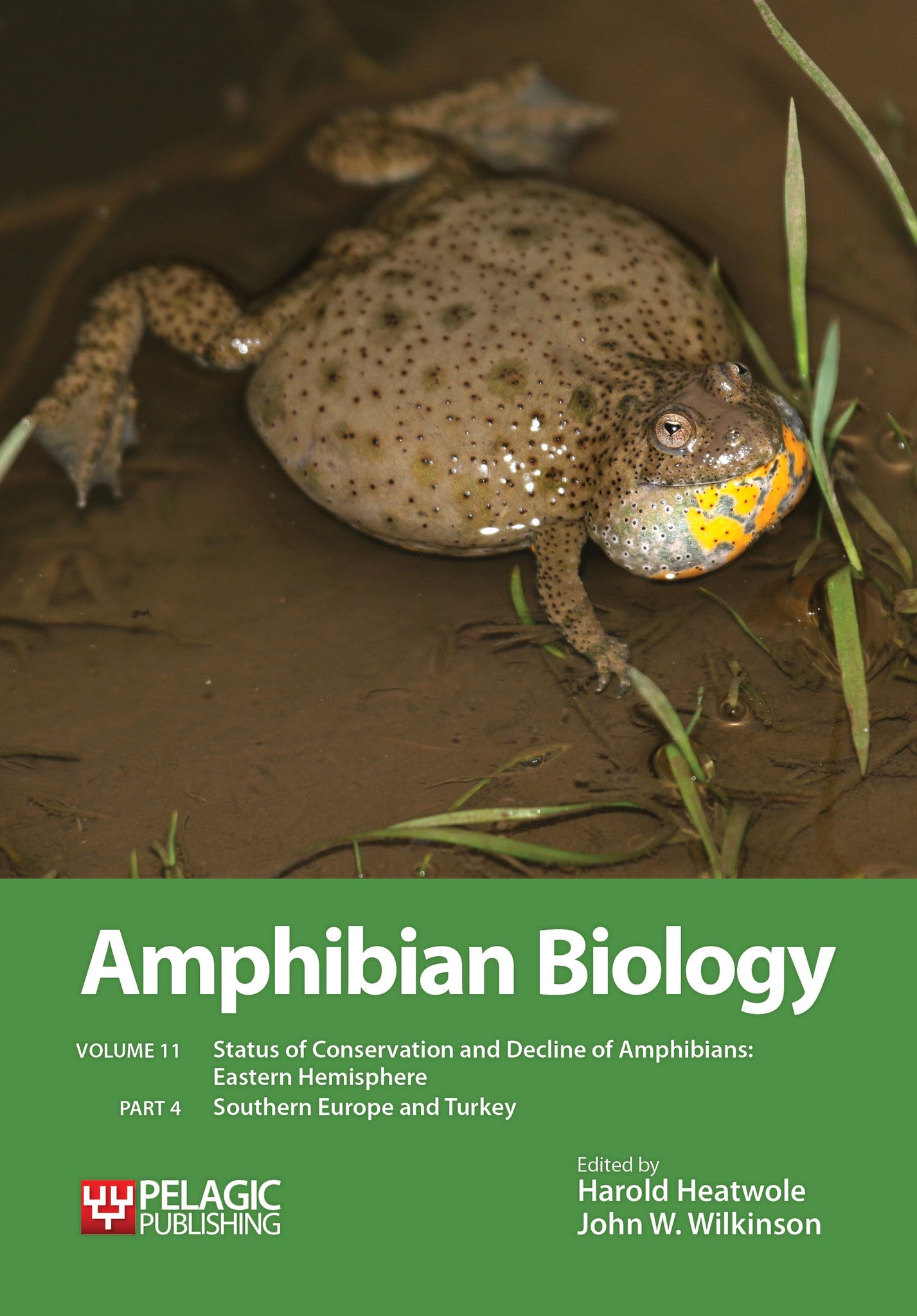 Amphibian Biology, Volume 11, Part 4
Status of Conservation and Decline of Amphibians: Eastern Hemisphere: Southern Europe & Turkey
Addresses the entire range of threats to amphibians
Contributions by country experts
Provides recommendations for action
This book very usefully compiles under a single cover a large body of information that would otherwise be widely dispersed between specialist journals and regional literature.
—Richard A. Griffiths, Herpetological Bulletin
Tags:
amphibian
amphibians
conservation
decline
ecology
herpetofauna
herpetology
Description
Amphibian species around the world are unusually vulnerable to a variety of threats, by no means all of which are properly understood. Volume 11 in this major series is published in parts devoted to the causes of amphibian decline and to conservation measures in regions of the world. This volume, Part 4 in the series, is concerned with Southern Europe (Italy, Malta, Croatia, Slovenia, Serbia, Montenegro, Bosnia and Herzegovina, Macedonia, Albania, Greece, Romania, Hungary, Bulgaria, Turkey, and Cyprus).
Each chapter has been written by experts from each country, describing the ecological background and the conservation status of affected species, with an emphasis on native species. As well as infectious diseases and parasites, threats take the form of introduced and invasive species, pollution, destruction and alteration of habitat, and climatic change. These are discussed as they affect each species. All these countries have monitoring schemes and conservation programs, whose origins and activities are described. Recommendations for action are also made.
Edited by leading scholars in the field, Volume 11, when complete, will provide a definitive survey of the amphibian predicament and a stimulus to further research with the objective of arresting the global decline of an entire class of animal.
Readership
Biologists, ecologists, herpetologists, policy-makers
Table of Contents
39 The amphibians of the Italian region: A review of conservation status - Franco Andreone
40 Amphibian conservation and declines in Malta - Patrick J. Schembri
41 Conservation and declines of amphibians in Croatia - Olga Jovanović and Dušan Jelić
42 Conservation and declines of amphibians in Slovenia - David Stanković, Martina Lužnik, and Katja Poboljšaj
43 Conservation and decline of European amphibians: The Republic of Serbia - Jelka Crnobrnja-Isailović and Momir Paunović
44 Amphibian declines and conservation in Montenegro - Ruža Ćirović
45 Status of amphibians in Bosnia and Herzegovina - Avdul Adrović
46 Conservation and protection status of amphibians in Macedonia - Bogoljub Sterijovski
47 Amphibians of Albania - Idriz Haxhiu
48 Declines and conservation of amphibians in Greece - Konstantinos Sotiropoulos and Petros Lymberakis
49 Amphibian conservation and decline in Romania - Dan Cogălniceanu and Laurenţiu Rozylowicz
50 Conservation and decline of amphibians in Hungary - Judit Vörös, István Kiss, and Miklós Puky
51 Conservation and declines of amphibians in Bulgaria - Nikolay Dimitrov Tzankov and Georgi Sashev Popgeorgiev
52 Amphibian conservation and decline in Turkey - Kurtuluş Olgun and Nazan Üzüm
53 Conservation of amphibians in Cyprus - Petros Lymberakis, Haris Nicolaou, and Konstantinos Sotiropoulos
Index
Reviews
This book very usefully compiles under a single cover a large body of information that would otherwise be widely dispersed between specialist journals and regional literature. —Richard A. Griffiths, Herpetological Bulletin
Overall, this last volume offers a unique collection of information, and can be an important source of data for all people interested to amphibian biology, but also for management agencies. —Gentile Francesco Ficetola, Phyllomedusa
About the Author
Harold Heatwole is an ecologist and herpetologist. His first PhD (University of Michigan) dealt with habitat use by amphibians, but then he branched out and studied other taxa, mostly reptiles and amphibians, but also ants, tardigrades, and seabirds. He earned a second PhD in Botany with a dissertation on the dynamics of vegetation on coral cays on the Great Barrier Reef of Australia (University of Queensland). He completed his education with a PhD in Geography (James Cook University) and a DsC (University of New England, Australia). He had faculty appointments at the University of Puerto Rico, University of New England, and currently is Professor of Biology at North Carolina State University and Adjunct Professor of Zoology at the University of New England. He is editor in Chief of the journal Integrative and Comparative Biology. He is a Fellow of the Explorers Club.
John W. Wilkinson is a conservation biologist specializing in studying and monitoring amphibians and reptiles. He started working with herpetofauna whilst an undergraduate and now nobody will give him a proper job. For eight years he was International Coordinator of the Declining Amphibian Populations Task Force and is currently Science Program Manager for the charity Amphibian and Reptile Conservation. John's PhD thesis was on toad conservation - it just made him realize how much more there is to find out...
Bibliographic Information
172 pages

Colour & b/w figures

Tables

BISAC

SCI070000, SCI020000, SCI008000, NAT011000, NAT037000, NAT028000, NAT010000

BIC

PSVW3, WNCK, PSVS, RNKH, RNK, PS